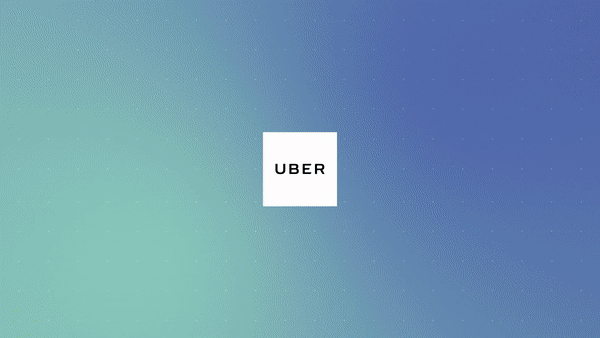 New city? Same Uber
Uber's first regional occasion-based campaign to increase adoption and saliency across the Airports use case. Resulting in 27% increase in intent and up to 100% increase in saliency in participating markets
Airport activity is a 40 million trip per month opportunity in Asia Pacific. Additionally, non-users of ride-sharing indicate a trip to the airport the most likely occasion to try Uber. The volume of activity, potential to drive adoption and high fares make the transit use-case a lever for growth in this region.
Consumers begin planning travel options up to six months prior departure. Their travel needs and barriers vary and different stages of planning, and while travelling from home > destination > return home.
Intercept travellers at different stages of the consumer journey, providing clear and contextual answers to their travel needs
Hero film showcasing common frustrations and inconveniences travellers encounter at the airport. However, travelling to or from an airport can be easy, reliable, and affordable through the simplicity of the Uber app. The film was told through the lens of a family of four, a solo leisure traveller and two business executives - representing three common use-cases for transit commute.
Film adapted to a 30-sec commercial for in-flight ads to increase awareness, along with 15- sec YouTube pre-rolls & 06-sec YouTube bumper ads to drive app installs.
50% of travellers pre-book their airport transport during the planning stage of their travel. GSP Ads targeted users with travel related keywords, educating them on Uber's Scheduled Rides feature
Airport messaging introduced to pool of evergreen Facebook and Display ads to drive adoption across high-intent travel audience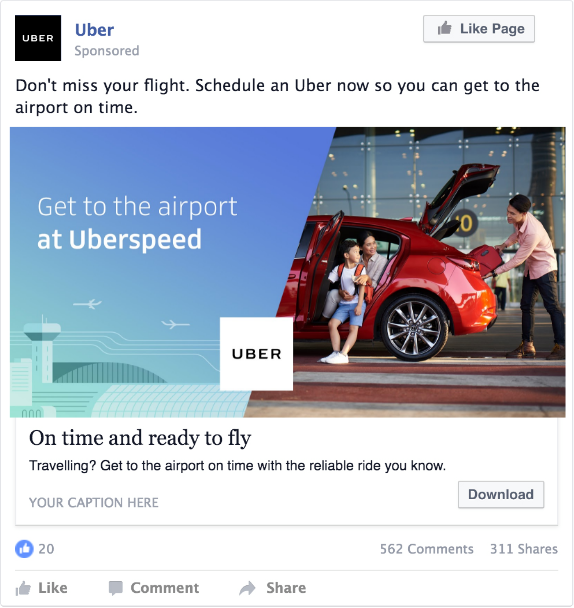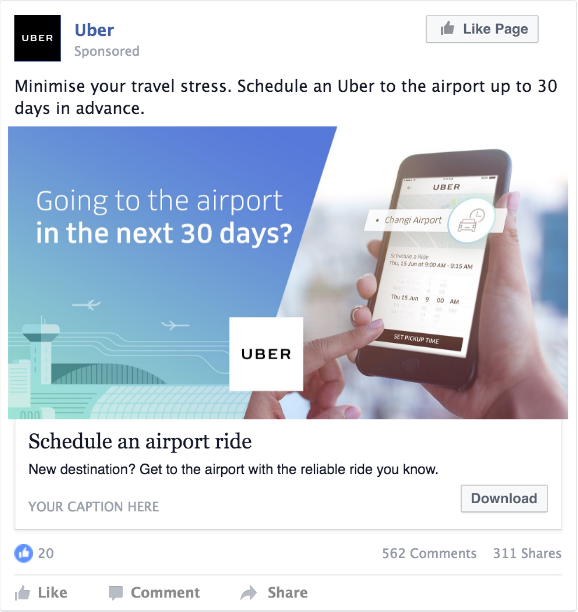 LED panel series welcoming riders to the Hanoi Airport with educational messaging addressing key barriers upon arrival at a new airport. Inventory purchased at domestic terminals given the high volume of local travel between Hanoi and HCMC, copy in Vietnamese.
Contextual OOH advertisements at international arrival and departure terminals in Ho Chi Minh, Jakarta, and Kuala Lumpur airport, featuring price estimates and wayfinding instructions. English-language copy to target international travellers.
Product demo videos designed to highlight dedicated pick-up zones at local and international terminals, addressing the key barrier of uncertainty about pick-up points at new Airports. The seamless animations and art direction represent the experience of an Uber pick-up.
Campaign concept introduced to Uber's regional travel partnership with AirAsia. Executions included homepage advertisements, ticket jackets, in-flight announcements and in-flight magazines to keep Uber top-of-mind during different stages of travel (time of booking > departure > arrival).